Chocolate Yorkies, also known as Chocolate Yorkshire Terriers, are a small breed of dog that is characterized by its long, silky coat and small size.
They look like traditional Yorkshire Terriers and are known for their intelligence, affectionate natures, and playful personalities. People who seek out unique and rare breeds of dogs are often interested in chocolate Yorkies, since they are a relatively rare color variation of the Yorkshire Terrier breed. They make excellent companions for people of all ages and are well-suited to living in a variety of different environments.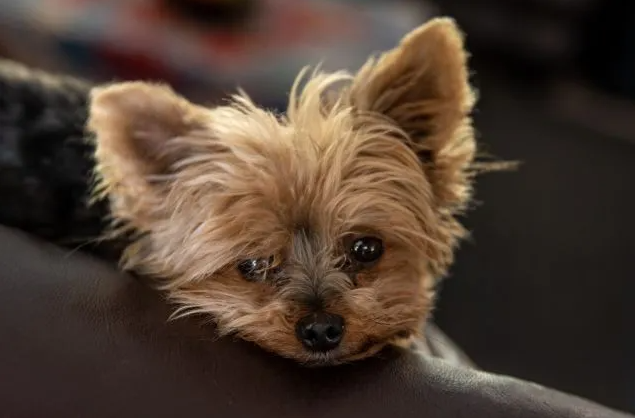 Are Chocolate Yorkies Purebred?
Yes, Chocolate Yorkies are purebred dogs that are recognized as a color variation of the Yorkshire Terrier breed. American Kennel Club (AKC) and major kennel clubs recognize them as legitimate breeds descended from the traditional Yorkshire Terrier breed.
The Yorkshire Terrier breed is known for its long, silky coat and small size, and Chocolate Yorkies have all of the same physical and personality traits as other Yorkies. They are a small breed of dog that typically weighs less than 7 pounds and stands about 7-8 inches tall at the shoulder. They are intelligent, energetic, and affectionate dogs that are well-suited to life in a variety of different environments.
Chocolate Yorkie Appearance
Chocolate Yorkies are small dogs that are characterized by their long, silky coat and small size. They typically weigh less than 7 pounds and stand about 7-8 inches tall at the shoulder.
The coat of a Chocolate Yorkie is typically long and silky, and it may be either straight or slightly wavy. The coat is typically chocolate brown in color, although it may also have some lighter or darker shades. Chocolate Yorkies may also have some white markings on their face, chest, and paws. In general, Chocolate Yorkies are well-proportioned and athletic in appearance, and they have a lively and energetic personalities.
Are chocolate Parti Yorkies rare?
Yes, chocolate parti Yorkies are a relatively rare color variation of the Yorkshire Terrier breed. Parti Yorkies are characterized by their white and colored markings, and they are typically considered to be a rare and unique variation of the breed.
What color eyes do chocolate Yorkies have?
The eye color of a Chocolate Yorkie can vary, but they are generally dark in color. Chocolate Yorkies may have dark brown, black, or dark amber-colored eyes.
Watch a VIDEO About Chocolate Yorkies
How old are Chocolate Yorkies?
The average lifespan of chocolate Yorkies is between 12 and 15 years. Female Yorkshire Terriers
live 1.5 years longer than male Yorkshire Terriers.
Chocolate Yorkies Personality & Temperament
Chocolate Yorkies are small-breed dogs with huge personalities. They are ideal active
companions with active, friendly, loving, or affectionate personalities. Their distinctive looks
grab the attention of people of every age.
Chocolate Yorkies want more attention from their owners due to their sensitive nature. They
are likely to pick up unexpected tricks in addition to routine orders because they are very smart
and well-trained. They are not assertive toward individuals or animals, and they prefer to sit in
their owners' arms.
Does Chocolate Yorkies hypoallergenic?
No dog is completely hypoallergenic. Yorkies are almost allergic-free pets. Their lovely and silky
coats are hard to remove, so they won't leave any hair like other dogs in your house. It means
that they will not cause any allergic reactions in the majority of individuals who are sensitive to
pets.
Do Chocolate Yorkies turn gray?
The Yorkie is a black and brown terrier that develops a blue hue due to the presence of the rare
graying gene. The graying gene influences eumelanin production, the black pigment found in
their hair and skin. Nevertheless, the color of the eyes or nose remains the same. It has no
impact on them.
Do Chocolate Yorkies shed a lot?
Chocolate Yorkies do not shed a lot like other dogs. Their silky, lovely, long, or flowing brown
coat does not remove as they are the same as human hair.
They have different removal cycles than other dogs, so this type of hair expands at a constant
rate every year. When they shed, their hair falls back into the puppy's coat, making it less
apparent.
Do Chocolate Yorkies have health issues?
Although Chocolate Yorkies possess recessive genes, it doesn't mean they have unusual health
issues. Mostly, Chocolate Yorkies live a healthy and long life.

If you want to buy Chocolate Yorkshire, ask a lot of questions from breeders regarding their
parents, place of birth, registration, or paperwork. Also, ask for references from previous
customers.
How much does a Chocolate Yorkie cost?
As we all know, because Chocolate Yorkies are extremely rare, their prices rise in tandem with
their high demand. Their price is considerably higher than that of a normal Yorkie, which ranges
from $800 to $1500. Chocolate Yorkies cost between $2,000 and $6,500.
If you are considering adopting a Chocolate Yorkie, it is important to do your research and find a reputable breeder who is committed to breeding healthy, well-adjusted puppies. It is also important to make sure that the puppy you are considering is a purebred Yorkshire Terrier and has been properly socialized and cared for.
Other Articles