Our dogs are a massive part of the family. We like to involve them in everything, and that includes making them Christmas treats! 
We've made these delicious, easy, and healthy dog biscuits to look like little Christmas puddings, but with dog-safe ingredients, so our furry friends don't feel left out. 
These tasty biscuits are healthy too. They include beneficial ingredients, including:
Peanut Butter – This is the main ingredient in the treats. Not only does it give the biscuits its rich color, but it also binds the ingredients together and has many health benefits for dogs, including being high in healthy fats, which help to control blood sugar and blood pressure. It also makes the biscuits smell and taste amazing!
Yogurt – High in nutrients and protein and great for your dogs' digestive health, yogurt is an excellent addition to their diet. If your dog hasn't had dairy before, introduce it slowly as many dogs struggle to digest lactose, and it can cause vomiting and diarrhea.
Cranberries – In small amounts, cranberries are safe for dogs to eat. They might be able to improve bladder health and oral hygiene.
Egg – This binding ingredient is used in most biscuit recipes. Not only is it useful to the mixture, but it is also packed full of essential acids and vitamins.
You can alter the size and shape to your dogs' preference.
Ensure you do not feed your dog any 'human' Christmas pudding as they usually include many unsafe and even toxic ingredients.
Let us know if you give these a try, and send a picture with your beautiful doggies #wildbarkers!
Disclaimer: 
This recipe is designed as a treat for your dog and should not be fed in place of their regular food. Treats should only make up a maximum of 10% of your dogs' daily food intake.
The treat quantity and size can be altered to suit your dog.
Please contact your veterinarian with any questions and before introducing new foods to your dogs' diet.
Busy? Get Your Hands Paws On The Answers Quickly…
HOW TO MAKE OUR CHRISTMAS PUDDING DOG TREATS
Ingredients:   1/2 cup peanut butter7 tbsp all-purpose flour1 eggYogurt and dried cranberries to decorate Directions: 1. Melt the peanut butter slightly to soften, add the flour, and mix. 2. Add the egg and combine. 3. Roll into balls and place on a lined baking tray. 4. Flatten with the base of a glass. 5. Bake at 350 degrees F (175 degrees C) for 25 minutes or until crisp. 6. Allow to cool. 7. Dip half the biscuits in the yogurt and add a dried cranberry to the top to create the Christmas pudding.

QUICK VIDEO ON HOW TO MAKE OUR CHRISTMAS PUDDING TREATS
Disclaimer: Always check with your veterinarian or nutritionist before feeding your dog new foods.
PRINTABLE PDF GUIDE
Not ready to bake yet? Save the recipe for later!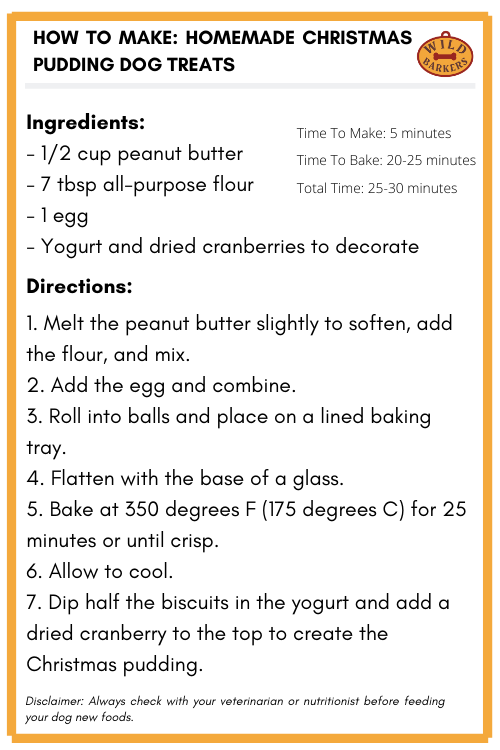 Looking for more pawsome posts? Check these out…

Can Dogs Eat Lettuce?

How To Make A Snuffle Mat

When Do Puppies Lose Their Teeth?

Can Dogs Eat Broccoli?

Can Dogs Eat Watermelon?
Disclaimer: Each dog is different, and every circumstance is different. All efforts have been made to provide accurate information. However, it is not provided by a qualified Veterinarian, Veterinarian Surgeon, or Behaviorist. The information provided is purely educational. The information should not be used as an alternative or substitute for medical care. If you have any health or medical concerns, contact a qualified Veterinary Surgeon or Veterinarian immediately.
Other Articles